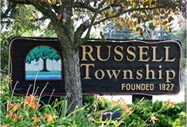 Russell Township
Oct 03
Oct 05
Oct 08
Free coffee and conversation! At the Russell Police Department on Saturday, October 8th, from 9 am - 11 am. The Russell Police invite you to come out, grab a cup of coffee and get to know your local police officers. Ask questions, tell us about your neighborhood, or share your concerns.
Click here for more events
.
The Russell Township Board of Trustees seeks applicants for the Township Zoning Commission...
Wednesday, September 28th, 7 pm
Saturday, October 15th, 10 am
Please join us for one of two informational sessions. The Russell Township Fiscal Officer and the Township Trustees for an education and outreach session. Hear about the current state of affairs in Russell Township and the long term plan for the future. Residents are encouraged to attend. The presentation will be given on Wednesday, September 28th at 7 pm. It will be repeated on Saturday, October 15th at 10 am.
Read more about the recycling events to be held at the Geauga County Engineer's Yard this year.