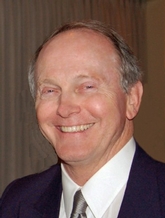 Jim Mueller
Jim Mueller is a graduate of Cleveland State University in chemical engineering. He attended CWRU with some work toward his MBA. He was State Representative for Lake and Geauga Counties for four years, and Geauga County Commissioner for four terms or 16 years.
He also served as Chairman of the Geauga County Planning Commission as well as a member of the Northeast Ohio Areawide Coordinating Agency (NOACA).
He has been Township Trustee in Russell for the past seven years, and is an usher at St. Joan of Arc Church in Chagrin Falls. He is also a member of the Fraternal Order of Eagles.